Charter Fishing Rates
Our trips start at just under $95 per person with a group of 6 and are some of the best rates on the lake!
Due to the increasing fuel costs, your trip may be subject to a fuel surcharge. This cost may vary depending on actual costs and the distances traveled to afford you the best possible adventure. We hope you understand.
All equipment is provided. Fish are cleaned and bag at no additional charge.
Captain Steve, a U S Army veteran himself, would like to thank our service members for their dedication to our freedom. All members of the military, police, and fire services, current and former, receive an additional hour on our Great Lake.
Same Lake Michigan fishing charter Rate Weekday or Weekend! Yes, the weekends do book up first, but we offer the same price every day of the week.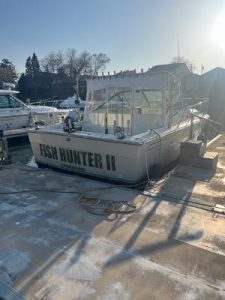 6 hour or limit- $650.00
8 hour or limit- $800.00
Includes sales tax
If the Captain must cancel due to inclement weather on Lake Michigan, the charter will be rescheduled on an agreed date.
The deposit for your Lake Michigan fishing charter is $150.00 (per trip) due 10 days after booking, to insure your date and time.
If you need to cancel, we require a 14-day notice to receive a refund on your deposit. A $10 per person fuel surcharge may apply.
---
STAY A COUPLE DAYS AND MAKE A TRIP OUT OF IT
**PLEASE WATCH FOR UPDATED LODGING INFO, WE ARE WORKING WITH AREA HOTELS TO PROVIDE YOU THE BEST POSSIBLE PRICES**
There are several lodging options available for your Lake Michigan fishing charter trip. We will make the arrangements for you. A Lake Michigan fishing charter is a great way to get away for a few days.
Multi Day Lake Michigan fishing charter Package Rates
A sailboat passes the Racine reef marker during a Lake Michigan fishing charter. Charter fishing on Lake Michigan is the perfect way to enjoy a summer day. As part of the Simmons Island Charter Group Wyndham Garden Kenosha Harborside hotel has provided the captains with a discount rate to provide lodging to our customers. The following provides details on the cost:
Wyndham Garden Kenosha Harborside one night stay with two half day charters
4 people (2 rooms), $392.00 per person
5 people (2 rooms), $316.00 per person
6 people (3 rooms), $309.00 per person
Rooms only are available at the following rates: Queen size lake side room $134.91 per night with 2 people per room, Queen size city side room $124.99 per night with 2 people per room. $10.00 extra for additional guests over 2. Room tax is 13.9%. *ROOM CHARGES SUBJECT TO CHANGE, these rates are not managed or set by Hunters Charters*
Lake Michigan fishing charters in Kenosha County Wisconsin
for salmon and trout on Lake Michigan. The perfect destination for your next Lake Michigan fishing charter trip.
---
The results of another lake Michigan charter fishing trip.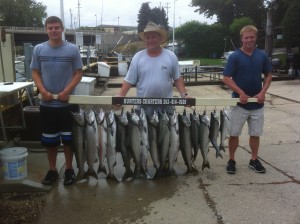 $550.00 for a half day trip,
just under $95 per person, based on a fishing charter with 6 people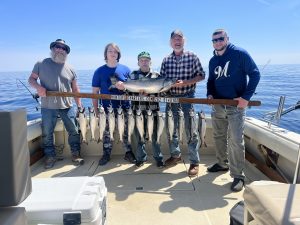 This photo says it all. This is why so many people plan an annual Lake Michigan fishing charter aboard The Fish Hunter II. Lake Michigan fishing charters from Kenosha, Wisconsin, the hottest port on Lake Michigan for salmon and trout charter fishing.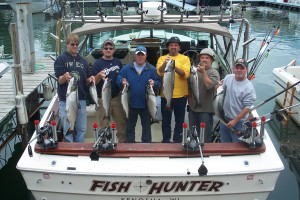 262-914-9100
Do something for yourself this summer. Hunters Charters provides an excellent Lake Michigan fishing charter boat for your next fishing trip. We have combined Lake Michigan fishing charters with affordable and convenient lodging options. 6 people can enjoy 2 days aboard a Lake Michigan charter fishing boat combined with overnight lodging for as little as $310 per person.