Kenosha IS the place to be. More fish, more fun, better service, and closer than you think. 1 hour from Chicago and Milwaukee.
The FISH HUNTER fish daily from the Port of Kenosha, Wisconsin. The starting point for your next Lake Michigan salmon adventure.
Kenosha Wisconsin is the perfect place for your next Wisconsin charter fishing trip. Continually ranked the best catch rate on the Wisconsin side of the lake, this is the place for your Lake Michigan charter fishing trip.
We are located in Kenosha Wisconsin and charter fish out of the Simmons Island Marina, dock 3. Kenosha is rated the #1 Harbor in Wisconsin for Salmon and Trout Charter Fishing. We are located 1 hour from Chicago Illinois and 30 minutes from Milwaukee Wisconsin. Kenosha is the perfect harbor for your Lake Michigan Salmon Fishing charter.
The Fish Hunter II runs daily Wisconsin charter fishing trips from Simmons Island marina. Plenty of parking, fish cleaning station, and restrooms are all located conveniently near the docks. Lake Michigan is a short 3 minute boat ride from the slip through the harbor. This means more time fishing and less time motoring around. One more reason that Wisconsin charter fishing is better in Kenosha.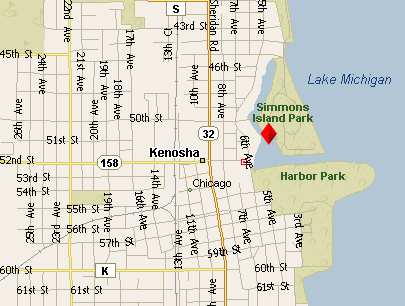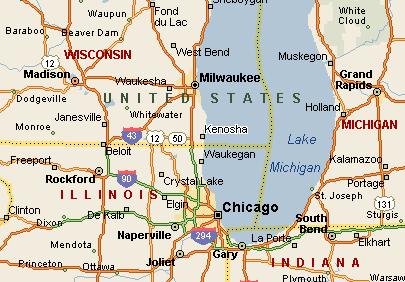 Your next Wisconsin charter fishing adventure is a short drive from Chicago, Illinois and Milwaukee, Wisconsin. Easy access from I 94 and private facilities make this the premier destination for your Wisconsin charter fishing trip.
Driving Distances
54 miles from Chicago, IL
34 miles from Milwaukee, WI
340 miles from Des Moines, IA
370 miles from Minneapolis, MN
Traveling along I 94: Take I-94 to Kenosha and Exit at Hwy. 142, go East. Continue east until you reach Sheridan Rd, then turn right. Go 2 blocks south to 44th street and turn left, follow this to the lake. You will need to turn right and then make a left to get into the parking lot near the boat slips. This is where your Kenosha charter fishing experience begins.
s.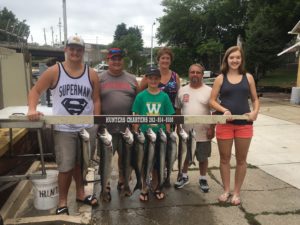 This is what Kenosha Salmon fishing is all about. Book you next Kenosha charter fishing trip now.