Wisconsin fishing charters are a popular way to enjoy the outdoors of Wisconsin. Charter fishing on Lake Michigan is perfect for anglers of all skill levels. Charters run from the Port of Kenosha consistently produce the best catches of salmon and trout on the Wisconsin waters of Lake Michigan. When searching for Wisconsin fishing charters on Lake Michigan, the Fish Hunter II is the perfect choice.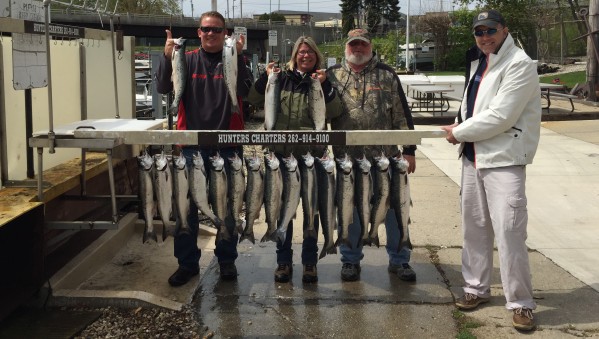 Kenosha is simply the best charter fishing port on Lake Michigan. If you have one day to spend on Lake Michigan, then this is the place to be. The season is here. Fishing is close to shore. We are seeing limit catches of Brown trout and Coho salmon daily.
This is why Wisconsin fishing charters for salmon and trout are so great. These proud anglers enjoyed great fishing off Kenosha during their Lake Michigan charter fishing trip.
We are always willing to help and want to ensure your day on the water is as enjoyable as possible. Our goal is to provide a Wisconsin fishing charter you will never forget.
1/2 day charters start at just $500.00
That's just under $85 per person.
based on 6 people
1. DO I NEED A FISHING LICENSE for Wisconsin Fishing charters on Lake Michigan?
Yes, you will need a valid Wisconsin Fishing License and a Lake Michigan Salmon Stamp to fish for salmon and trout on the Wisconsin waters of lake Michigan. A 2 day fishing license is also available which covers the Lake Michigan salmon stamp requirement.
2. WHERE CAN I OBTAIN A WISCONSIN FISHING LICENSE FOR A LAKE MICHIGAN CHARTER?
Wisconsin State fishing licenses are available at sporting goods retailers and most bait shops in Kenosha. Lou Perrine's Gas Station is located minutes from the boat dock at 5145 Sheridan Rd and can be reached at 262-654-7828. Jalensky Sporting goods is located at 5307 Green Bay Rd and can be reached at 262-654-2260.
3. HOW MANY PEOPLE CAN I BRING ON WISCONSIN FISHING CHARTERS?
There can be a maximum of six (6) people per USCG regulations on Wisconsin Fishing Charters. This does not include the captain and the mate.
4. WHAT HAPPENS IF THE WEATHER IS BAD THE DAY I HAD BOOKED?
In case of inclement weather, Captain Steve makes the final decision. If the Wisconsin fishing charter can not go he will reschedule you on a day you both agree on. It is rare to cancel Wisconsin fishing charters. But safety is always first when fishing Lake Michigan.
5. HOW FAR IN ADVANCE MUST I BOOK WISCONSIN FISHING CHARTERS in Kenosha, Wisconsin?
We would prefer at least 2 weeks. However, we may have an opening so please call for availability. A Lake Michigan charter fishing trip is a great way to spend a day when traveling.
6. DO YOU REQUIRE A DEPOSIT?
Yes, $150.00 deposit is required per trip when booking Wisconsin fishing charters. It is non-refundable if cancelled within 10 days of the scheduled date of your Wisconsin fishing charter.
7. DO I HAVE TO BRING ANY FISHING TACKLE?
No! All rods, reels, lures and tackle are provided. Wisconsin fishing charters require specific equipment. If you have something unique you would like to try, bring it along. This is your Wisconsin fishing charter, we want you to leave happy.
8. DOES THE BOAT HAVE A RESTROOM?
Yes, the "Fish Hunter II" has a clean "head" on board. Most Lake Michigan charter fishing boats are equipped this way.
9. WHAT TYPE OF EQUIPMENT DOES "CAPTAIN Hunter" USE TO CATCH FISH ON LAKE MICHIGAN?
Captain Hunter has a variety of tools for Wisconsin charter fishing trips. Water Temperature gauge, Electronic Fish Finder, Outriggers, Downriggers, Plannerboards, Auto Pilot, GPS Mapping, Chart Plotting, and Ship to Shore communications are all used to improve your chances of catching fish on Lake Michigan.